Become a FreshFind Market
---
Are you looking to enhance and grow your existing market?
Want to start a new one and earn an income by contributing to your community in a meaningful way?
Join our network of local markets and grow with us!

---
What is the role of a Market Operator?
Each Market Operator collaborates with local Vendors to help residents access fresh, high quality goods at a fair price.
You can hand-pick the list of Vendors & Products according to your liking, and offer Curbside Pickup and/or Delivery to customers as you see fit.
On average, a FreshFind Market Operator earns an income of 10%~20% of the sales generated while contributing 10~15 hours of work per week.
(Each Market can customize its own fees depending on the related costs.)
What does FreshFind provide?
We work closely with each and every Market to expand their service both online and in-person, and help reach their local communities better by sharing the costs of technology and marketing with other markets on FreshFind. The true collaborative power of a network!
1) Expanding Your Online Business
Our beautiful, turn-key online storefront gets your market up and running online within minutes. Reach nearby customers more easily and grow your business online with intuitive e-commerce features. (Offer Delivery or Pick Up - and did we mention Phone Ordering for Seniors?)
2) Simplifying Your Offline Operations
With our POS system for in-person transactions, you can integrate your Online & Offline operations into one platform and offer a seamless hybrid market experience. No more paper receipts and money/inventory tracking!
3) Products & Inventory Managed by Vendors
Don't worry about managing your Vendors' inventory and products! Each Vendor manages their offerings through their own portal and makes sure that everything is up to date.
4) Automatic Payouts to Vendors
No more hours spent each week calculating by hand how much each Vendor is owed and e-transferring their money. We automate all of this.
5) Power of Data & Analytics
Engage your customers by getting to know them better and get insights on Market operations to make better decisions. For example, which products sell best and when?
6) 24/7 Personal Support
We provide business, marketing, and technology support to you every step of the way. Our relationship is one of partnership in heading towards our overarching mission. Your satisfaction and performance is in our best interest, and we truly want you to succeed.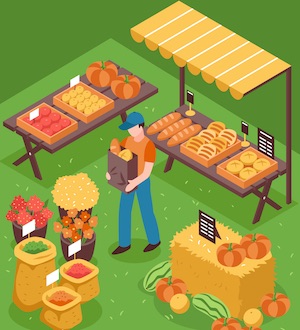 Be your community's source of fresh, high quality goods.
Be your community's source of fresh, high quality goods.